How I Can Help You?
Hey, hello! I'm Susheel. I'm a male Indian Voice Over Artist who speaks English with proficiency. I speak in a neutral Indian accent, and I have the studio, and equipment setup to deliver a high-quality voiceover quickly, and with minimal hassle.
I primarily work with Corporate Video Narration, e-Learning videos, explainer videos, and corporate or web/YouTube video clients. If that's what you need, get in touch with me right away, and let us get started.
Download Voice Samples
Of course, you'll want to hear my voice; click play in the player to the above right, to listen to some samples.
You can also download the samples by selecting the one that you want to download and clicking the downward pointing arrow at the top-right of the player.
Voice Style/Description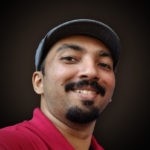 Clients tend to describe my voice as conversational, soothing, metropolitan, educated, and neutral. I perform conversational-style scripts with ease & I tend to avoid the announcer, bombastic style of voice-over in favour of a more personal, intimate narration.
If that's what your script needs, chances are that I'm the right voice for you. Call or email me to request a free audition after you've heard my samples, and remember to mention which sample you liked… see FAQs for details.
My Clients
Clients such as Mondelez India (Cadbury), Paypal, Snapchat, Kotak Mahindra Bank, Flipkart, Maruti Suzuki, Civ Robotics, International Federation of Red Cross and Red Crescent Societies, ADAMA India, Hindustan Coca-Cola Beverages, Kanoo Machinery, Southern Illinois Professional Development Center, and many more have trusted me to communicate their messages to their clients.
I have also worked with various e-learning creators & YouTube channels, who are also on my client list.
Delivery Speed and Format
Typically, I can deliver your VO script within 24 hours on a working day. If it's a bit longer, it may take some more time to deliver to you.
All WAV files are 24-bit, 48/44.1Khz, Mono – Mastered to -3dBfs peaks, and a noise floor of -75dBfs. However, if you want to receive files in a different format or different spec… Just let me know when you place your order, and I'll be sure to follow your spec.
All deliveries are made online, and you can download the files at your leisure.
Get In Touch
So, you've listened to the samples and decided that I'm the right voice for your needs… What next? Send me your script, and I'll send you an estimate and all the other details that you may need. To get started, contact me, and I'll get back to you right away. You can also call me at the number below.
+91-99620-28747.
Connect On Twitter | Connect On Instagram | SoundCloud
If you want to read more about me, check out this blog post on my brand new VoiceOver blog!