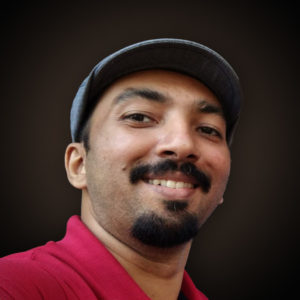 Welcome to Susheel C's voiceovers. Susheel has been described as having a natural, soothing, and conversational style, with a neutral Indian accent.
Susheel delivers English Voice Overs, out of his well-equipped home studio. This gives him a typical turn-around time of 12-48 hours depending on various factors. See FAQs.
He has a Neutral Indian English accent (Indian Subcontinent, not Native American) and speaks English natively. He speaks Tamil & Hindi well enough to have a conversation.
The Story So Far
Susheel earned his Bachelor's Degree in Visual Communication in 2003, from Loyola College, Chennai – one of the most prestigious colleges in the city. This exposed him to filmmaking and editing, although his chosen career was in Graphic design and advertising. Still, filmmaking had always been a part of his repertoire. Years later, in 2015, he transitioned his company to working on photography and filmmaking full-time.
So, in short, he has had experience with recording audio for commercial filmmaking projects as far back as 2013. But this also started him off on a dark path… It sparked an interest in microphones, recording audio, and an obsession with the Podcastage YouTube Channel because of the in-depth mic reviews that Bandrew makes.
In December 2019, he started a podcast (for fun) with a friend, resulting in a year-long endeavour during COVID lockdowns.
In late 2019, Susheel started working on his voice-over projects, starting with recording audiobook chapters at Librivox.org and finally taking on paid jobs from various platforms. In 2022, after having worked out the kinks, collaborated with several clients, satisfied all their requirements for two years, and having become confident in his ability to deliver broadcast-quality audio time after time, he launched this website.
He is comfortable voicing English eLearning, explainer, and narration-style scripts. He has also recorded ads, promos, and web video content for several clients. Susheel has also contributed chapters to a few audiobooks and enjoys voicing non-fiction content or narration-style fictional content.
Here are a few audio samples that you can listen to.
His Clients especially like his conversational style. Here is what they have to say about him.
Voice Over Recording Equipment: Current Setup
Susheel's voiceovers are recorded in his acoustically treated home studio. The equipment used is listed below.
Microphones: Audio Technica AT4040 & AT815b microphones
Audio Interface: Focusrite Scarlett 2i2 3rd Gen
Headphones: Sony MDR-7506 Studio Monitor Headphones
DAW: Adobe Audition
Mastering Plugins: Various Focusrite, iZotope Rx8, & Waves plugins
The AT4040 is a large diaphragm studio microphone that is used for recording voiceovers. The AT815b is a shotgun microphone that is used for recording Foley and sound effects. The Focusrite Scarlett 2i2 3rd Gen is an audio interface that connects the microphones to the computer. The Sony MDR-7506 headphones are used for monitoring the audio while recording. Adobe Audition is the digital audio workstation (DAW) used for editing the audio. Various Focusrite, iZotope Rx8, and Waves plugins are used for mastering the audio.
Standards Maintained
His recordings have an output with a -75dBFS or better noise floor and are typically mastered to a -3 dBFS peak. So, you can be sure you're getting broadcast-quality audio every time. If you have different requirements, please be sure to mention them beforehand.
Connect with Susheel today to get started. Call +91-99620-28747, or use the Contact Page.